Great American Smash 2K14



Date

August 16, 2014

Venue

U.S. Bank Arena

City

Cincinnati, OH

Attendance

14,000

Theme Song

"Break Through the Silence" by Monty Are I

Previous

Next
The Great American Smash 2014 is the 49th cpv produced by SCAW. It is the fifth in the chronology. It took place on August 16, 2014 at the US Bank Arena in Cincinnati, Ohio.
Nine matches were scheduled (one was in the Preshow and one was added at the event). The Gladiator and the returning Captain America wrestled in the main event.
Albert Wesker demanded a match so Guile put him in one. Wesker pinned Jean-Luc Picard after the Turning Evil.
Preliminary matches
Edit
Thor pinned Ichigo Kurosaki after the Mjolnir from a ladder through a table to retain the SCAW Hardcore Championship.
Guile granted Magneto's request for a match.
King & Kenshin Himura defeated Red Hood & Captain Marvel in a tag team match. King pinned Red Hood after the Tek Buster.
Brian Urlacher pinned Magneto after the Chicago Style Jackhammer.
Mr. Clean & Jack Sparrow defeated Superman & Liu Kang in a tag team match. Mr. Clean pinned Superman after the Cleaning Press.
LeBron James and Burger King's partnership ended.
Rayne pinned Avril Lavigne after the Rayne Down to win a Steel Cage Match and retain the SCAW Women's Championship.
Ghost Rider & Dante defeated Spider-Man & Homer Simpson to win the SCAW Tag Team Championship. Dante pinned Homer after a running Spear.
Main event
Edit
Edward Elric pinned The Green Lantern after the mid-air Sudden Alchemy to retain the SCAW Championship. They shook hands as a sign of respect.
Captain America made The Gladiator submit to the Ankle Lock.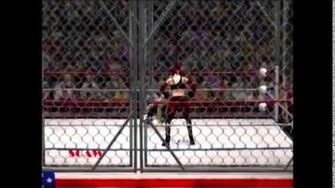 Ad blocker interference detected!
Wikia is a free-to-use site that makes money from advertising. We have a modified experience for viewers using ad blockers

Wikia is not accessible if you've made further modifications. Remove the custom ad blocker rule(s) and the page will load as expected.