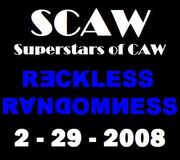 Reckless Randomness is a CAW wrestling click-per-view (CPV) event, produced by CAW wrestling promotion SCAW.
Every Match on the Card had random stipulations that were announced right before the match.
This event only airs on leap year, February 29.
This event's tagline is "An Event So Dangerous it only comes Every Four Years!!"
Title
Date
Venue
Scheduled Main Event
Reckless Randomness 2008
February 29, 2008
American Airlines Arena in Miami, Florida
Batman (c) vs. Guile in a Best of 3 Series for the SCAW Championship
Reckless Randomness 2012
February 29, 2012
Nassau Veterans Memorial Coliseum in Uniondale, New York
Icon vs. Icon Match: Participants TBD
Reckless Randomness 2016
February 29, 2016
Valley View Casino Center in San Diego, California
Hellboy (c) vs. Anakin vs. 4 challengers in an Elimination Chamber Match for the SCAW Championship
(c) – refers to the champion(s) heading into the match
Ad blocker interference detected!
Wikia is a free-to-use site that makes money from advertising. We have a modified experience for viewers using ad blockers

Wikia is not accessible if you've made further modifications. Remove the custom ad blocker rule(s) and the page will load as expected.