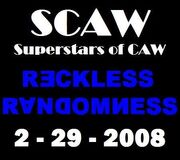 Reckless Randomness is a CAW wrestling click-per-view (CPV) event, produced by CAW wrestling promotion SCAW.
Every Match on the Card has random stipulations that were announced right before the match.
This event only airs on leap year, February 29. In fact, it's tagline is "An Event So Dangerous it only comes Every Four Years!!"
Dates and venues
Edit