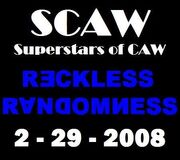 Reckless Randomness is a CAW wrestling click-per-view (CPV) event, produced by CAW wrestling promotion SCAW.
Every Match on the Card has random stipulations that were announced right before the match.
This event only airs on leap year, February 29. In fact, it's tagline is "An Event So Dangerous it only comes Every Four Years!!"
Reckless Randomness 2008 took place on February 29, 2008 at the American Airlines Arena in Miami, Florida (the first time a cpv aired from a "real life" venue). Batman and Guile wrestled in a Best of 3 Series for the SCAW Championship in the main event.
Reckless Randomness 2012 took place on February 29, 2008 at the Nassau Veterans Memorial Coliseum in Uniondale, New York. The main event is a mystery match simply entitled "Icon vs. Icon".
Reckless Randomness 2016 took place on February 29, 2016 at the Valley View Casino Center in San Diego, California. Hellboy defended the SCAW Championship in an Elimination Chamber Match at the main event.
Dates and venues
Edit