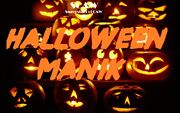 Halloween Manik is a CAW wrestling click-per-view event produced by SCAW. It has a Halloween themed show.
Due to delay, it gets aired on November instead of October.
Halloween Manik 2014 took place from the Joe Lewis Arena in Detroit, Michigan on November 15, 2014. Edward Elric and The Yellow Lantern wrestled for the SCAW Championship in the main event.
Halloween Manik 2015 took place from the Dunkin' Donuts Center in Providence, Rhode Island on November 20, 2015. Edward Elric and The Joker wrestled in the Hell in a Cell match in the main event.
Dates and venues
Edit
Ad blocker interference detected!
Wikia is a free-to-use site that makes money from advertising. We have a modified experience for viewers using ad blockers

Wikia is not accessible if you've made further modifications. Remove the custom ad blocker rule(s) and the page will load as expected.