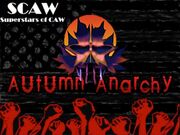 Autumn Anarchy is a CAW wrestling click-per-view (CPV) event, produced by CAW wrestling promotion SCAW.
The event was originally a replacement for SCAW Summer Brawl.
Autumn Anarchy 2015 took place on October 11, 2015 at the Thomas & Mack Center in Las Vegas, Nevada. Superman and Captain America wrestled in a Submission match in the main event.
Autumn Anarchy 2017 took place from the Bridgestone Arena in Nashville, Tennessee on December 31, 2017. For the first time, a women's match headlined a cpv as Chun-Li and Avril Lavigne wrestled for the SCAW Women's Championship in the main event.
Dates and venues
Edit