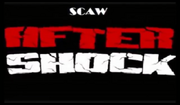 After Shock is a CAW wrestling click-per-view (CPV) event, created by SCAW in 2014.
It is usually a follow-up to SCAW's flagship event, SCAW Blood, Sweat & Tears.
This is the first cpv created in the WWE2K era.
The first After Shock took place on April 13, 2014 from the Allstate arena in Chicago, Illinois. This is the second time a cpv was held here since Blood, Sweat & Tears V. Edward Elric and The Prince of Persia wrestled for the SCAW Championship in the main event. The SCAW Hardcore Championship also debuted here.
After Shock 2015 took place August 22, 2015 from the Xcel Energy center in St. Paul, Minnesota. Hellboy and Edward Elric wrestled in a 2 out of 3 falls match for the SCAW Championship at the main event.
Dates and venues
Edit