Day of Destiny 2013



Date

August 11, 2013

Venue

New Orleans Arena

City

New Orleans, LA

Theme Song

"Live It Up" by Airbourne

Previous

Next
Day of Destiny 2013 was the sixth CAW wrestling click-per-view event of its name produced by SCAW. It took place on August 11, 2013 at the New Orleans Arena in New Orleans, Louisiana.
Seven matches were contested, with one in the Preshow. Homer Simpson won the Match of Destiny in the main event.
Spock & Piccolo defeated The Thing & Freakazoid when Piccolo pinned The Thing after a Power Leveller.
Preliminary matches
Edit
King pinned Captain Marvel after a Tek Buster.
The Prince of Persia and The Gladiator talk backstage.
Amy Lee pinned Rayne after a Breathe No More to retain the SCAW Women's Championship.
Ivan Drago, The White Ranger, David Beckham, Batman and Edward Elric cut promos.
Red Hood pinned Zod after a Seeing Red. Magneto and M. Bison attacked Red Hood.
Fred Durst interviewed Santa Claus.
Iron Man pinned Ghost Rider after a Steam Roller to retain the SCAW Legends Championship.
The Green Lantern found Guile attacked backstage.
Main event
Edit
The Prince of Persia defeated Spider-Man in a TLC Match to retain the SCAW Championship.
Homer Simpson won the Match of Destiny by last eliminating Edward Elric. Homer also set a new record of ten eliminations in a single MoD. Optimus Prime eliminated Yusuke Urameshi in only six seconds which is the shortest time in the Match's history. Iron Patriot, Gambit and Brian Urlacher debuted. Lara Croft replaced the injured Guile. Wolverine and Punisher were surprise entries.
Match of Destiny results
Edit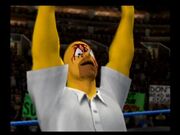 Ad blocker interference detected!
Wikia is a free-to-use site that makes money from advertising. We have a modified experience for viewers using ad blockers

Wikia is not accessible if you've made further modifications. Remove the custom ad blocker rule(s) and the page will load as expected.