Day of Destiny 2011



Date

April 17, 2011

Venue

Quicken Loans Arena

City

Cleveland, OH

Theme Song

"Machine Gun Blues" by Social Distortion

Previous

Next
Day of Destiny 2011 is the 28th cpv produced by SCAW. It is the fourth in the chronology. It took place on April 17, 2011 at the Quicken Loans Arena in Cleveland, Ohio.
Seven matches took place, with one in the Preshow. The Gladiator made his surprise return and won the Match of Destiny in the main event to get an SCAW Championship shot at Spring Showdown 2011.
Amy Lee pinned Rayne after the Breathe No More.
Preliminary matches
Edit
Mr. Clean defeated The Joker and Jack Sparrow in a Triple Threat Match to retain the SCAW Zero-One Championship. Mr. Clean pinned Joker after hitting him with the ring bell.
LeBron James attacked Spike.
Superman pinned Robin after the S-5. He continued his attack afterward.
Avril Lavigne interviewed Spider-Man.
Anakin pinned Abraham Lincoln after a Moonsault to win a steel cage match.
Chuck Norris banned Project Doomsday from the Match of Destiny. The White Ranger wasn't pleased.
Thor attacked LeBron James on the Highlight Reel.
Fred Durst interviewed the Tag Team champions Captain America & Guile.
Optimus Prime (with Doctor Doom) pinned He-Man after the Prime Line to win the SCAW Internet Championship.
Ghost Rider made The Green Lantern submit to the Hellfire Lock to retain the SCAW Championship.
Fred Durst interviewed Ryu Hayabusa. Avril interviewed Jean-Luc Picard.
Main event
Edit
The Gladiator eliminated Iron Man last to win the Match of Destiny and get an SCAW championship shot at Spring Showdown 2011. Simon Belmont, Johnny Knoxville and Dante debuted.
Match of Destiny
Edit
Eliminations:
Gladiator, Hellboy, Ichigo Kurosaki and Spider-Man - 4
Iron Man, Piccolo, Prince of Persia, Ryu Hayabusa and Santa Claus - 3
Captain Marvel and Inuyasha - 2
Dante, Kuwabara, M. Bison, Shaquille O'Neal and Yusuke Urameshi - 1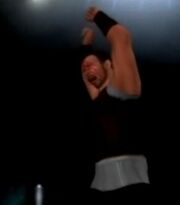 Ad blocker interference detected!
Wikia is a free-to-use site that makes money from advertising. We have a modified experience for viewers using ad blockers

Wikia is not accessible if you've made further modifications. Remove the custom ad blocker rule(s) and the page will load as expected.