Day of Destiny 2010



Date

May 9, 2010

Venue

E Center

City

Salt Lake City, UT

Theme Song

"I Came To Play" by Downstait

Previous

Next
Day of Destiny 2010 was the third CAW wrestling click-per-view event of its name produced by SCAW. It took place on May 9, 2010 at the E Center in Salt Lake City, Utah.
Seven matches were contested (one match was in the Preshow and one was added at the event). The returning Robin won the Match of Destiny in the main event to get an SCAW Championship shot at No Guts No Glory 2010.
Jay & Silent Bob (with Lord And Savior) defeated xXx (Vin Diesel & Ice Cube) in a tag team match. Jay pinned Ice Cube after a Clothesline.
Preliminary matches
Edit
Inuyasha pinned Apocalypse after the Full Fledged Demon Bomb.
Captain America, Ghost Rider and Guile have words backstage.
Jack Sparrow and The Hulk complained to Abraham Lincoln about not being in the Match of Destiny. Lincoln said there is one more spot and they must face each other to get it. Sparrow pinned The Hulk after the Pirate's Plunge.
Green Lantern pinned Harry Potter after a Crossbody Splash to win the SCAW Internet Championship.
Avril Lavigne interviewed Superman.
Iron Man pinned Anakin after the Steam Roller to retain the SCAW Championship. Lincoln made himself the referee after the referee got hurt.
Hellboy defeated Batman in a Buried Alive match.
Mr. T interviewed Homer Simpson.
Main Event
Edit
George W. Bush and Santa Claus started the Match of Destiny. Santa appeared in his face persona for the first time since Blood, Sweat & Tears II.
Spike was again a guest entrant. War Machine and Leatherface debuted.
Freakazoid was eliminated after only eleven seconds, setting the first quickest time in the MoD.
Robin eliminated Spider-Man last to win.
Match of Destiny
Edit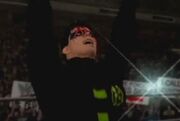 Ad blocker interference detected!
Wikia is a free-to-use site that makes money from advertising. We have a modified experience for viewers using ad blockers

Wikia is not accessible if you've made further modifications. Remove the custom ad blocker rule(s) and the page will load as expected.