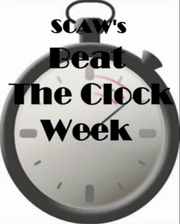 From Feb 12-19, 2012. To determine a number 1 contender for the SCAW Championship at Reckless Randomness 2012.
4 - Harry Potter attacked Burton.
5 - They were both attacked by Chuck Norris.
6 - Ichigo puts his career on the line for one more match with Elric.
7 - Doctor Doom attacked Robin
Ad blocker interference detected!
Wikia is a free-to-use site that makes money from advertising. We have a modified experience for viewers using ad blockers

Wikia is not accessible if you've made further modifications. Remove the custom ad blocker rule(s) and the page will load as expected.